The Training Center can only be used by dragons that are level 15 and above. You must be level 20 or above to be able to buy this
Building
. Using the Training center can teach the dragons stronger attacks in
Combat
.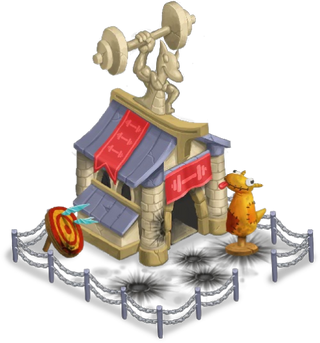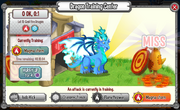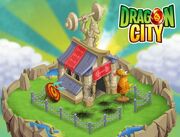 Not all trained attacks get the trained logo.
If any powerful attack already belongs to any dragon then it will have the trained logo(like if Chainmail Dragon has Karate Brick Break already then too it will have the trained logo.
Elemental attacks of the dragon can be trained if the dragon has the element. For example: The Pirate Dragon has the elements Dark and Sea, therefore it can only train Dark and Sea attacks such as Acid Rain (Sea), The Grim Reaper (Dark) and Black Hole (Dark). Exceptions include Pure Dragon, Special Cool Fire Dragon, Robot Dragon, Clover Dragon and Earth Day Dragon.
A trainable attack can be relearned once it has been removed from the list.
Every training has its duration. Durations: 12H, 24H or 48H.
The Dragon Training Center is now available for Android as well.
It takes 6 hours to complete.
Physical Attacks
Edit
Default attacks:
Trainable attacks:
Terra dragon Attacks
Edit
Default attacks:
Attack
Element
Base Damage
Duration
Earthquake
550
12 Hours
Meteor Shower
650
12 Hours
HeadWeed Attack

[[|link=:Category:{{Data:|e1}} Dragons|{{Data:|e1}}|32px]]

[[|link=:Category:{{Data:|e2}} Dragons|{{Data:|e2}}|32px]]

[[|link=:Category:{{Data:|e3}} Dragons|{{Data:|e3}}|32px]]

[[|link=:Category:{{Data:|e4}} Dragons|{{Data:|e4}}|32px]]

Expression error: Unexpected < operator. Hours
Trainable attacks:
Flame Attacks
Edit
Default attacks:
Trainable attacks:
Nature Attacks
Edit
Default attacks:
Trainable attacks:
Sea Attacks
Edit
Default attacks:
Trainable attacks:
Electric Attacks
Edit
Default attacks:
Trainable attacks:
Attack
Element
Base Damage
Duration
Bouncy Ball Head Butt

[[|link=:Category:{{Data:|e1}} Dragons|{{Data:|e1}}|32px]]

[[|link=:Category:{{Data:|e2}} Dragons|{{Data:|e2}}|32px]]

[[|link=:Category:{{Data:|e3}} Dragons|{{Data:|e3}}|32px]]

[[|link=:Category:{{Data:|e4}} Dragons|{{Data:|e4}}|32px]]

Expression error: Unexpected < operator. Hours
Tesla Ray
1350
48 Hours
Ice Attacks
Edit
Default attacks:
Trainable attacks:
Metal Attacks
Edit
Default attacks:
Trainable attacks:
Dark Attacks
Edit
Default attacks:
Trainable attacks:
Light Attacks
Edit
Default attacks:
Trainable attacks:
Attack
Element
Base Damage
Duration
Enlightning Wisdom
1200
48 Hours
Out of Time

[[|link=:Category:{{Data:|e1}} Dragons|{{Data:|e1}}|32px]]

[[|link=:Category:{{Data:|e2}} Dragons|{{Data:|e2}}|32px]]

[[|link=:Category:{{Data:|e3}} Dragons|{{Data:|e3}}|32px]]

[[|link=:Category:{{Data:|e4}} Dragons|{{Data:|e4}}|32px]]

Expression error: Unexpected < operator. Hours
War Attacks
Edit
Default attacks:
Trainable attacks:
Pure Attacks
Edit
Default and Trainable Attacks:
Legend Attacks
Edit
Default attacks:
Trainable attacks:
Beauty Attacks
Edit
Default attacks:
Trainable attacks:
| Attack | Element | Base Damage | Duration |
| --- | --- | --- | --- |
| Grace Touch | | 1350 | 48 Hours |
Magic Attacks
Edit
Default attacks:
Trainable attacks:
| Attack | Element | Base Damage | Duration |
| --- | --- | --- | --- |
| Vigor Feel | | 1350 | 48 Hours |
Chaos Attacks
Edit
Default attacks:
Trainable attacks:
| Attack | Element | Base Damage | Duration |
| --- | --- | --- | --- |
| Disorder | | 1350 | 48 Hours |
Happy Attacks
Edit
Default attacks:
Attack
Element
Base Damage
Duration
Brilliant Firework

[[|link=:Category:{{Data:|e1}} Dragons|{{Data:|e1}}|32px]]

[[|link=:Category:{{Data:|e2}} Dragons|{{Data:|e2}}|32px]]

[[|link=:Category:{{Data:|e3}} Dragons|{{Data:|e3}}|32px]]

[[|link=:Category:{{Data:|e4}} Dragons|{{Data:|e4}}|32px]]

Expression error: Unexpected < operator. Hours
Festive Lights
1175
24 Hours
Trainable attacks:
| Attack | Element | Base Damage | Duration |
| --- | --- | --- | --- |
| Appeal | | 1350 | 48 Hours |
Dream Attacks
Edit
Default attacks:
Trainable attacks:
| Attack | Element | Base Damage | Duration |
| --- | --- | --- | --- |
| Trance | | 1350 | 48 Hours |
Soul Attacks
Edit
Default attacks:
Trainable attacks:
| Attack | Element | Base Damage | Duration |
| --- | --- | --- | --- |
| Supernatural | | 1350 | 48 Hours |