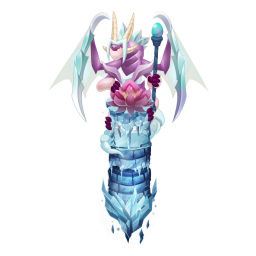 "With the flower of fertility and my magic staff I can accelerate your eggs' hatching. Call my door and I shall reward you."
Ability
[
]
Reduces hatching time of all dragons in the Hatchery by 6 hours. If any are less than 6 hours they are set to 0.
Minimum time between activations: 6 days.
Tower Information
[
]
Tower attaches to the Ice Island and unlocks at level 43
Dragon level for max chance (all elements matching): 35
Stage 1
[
]
Bar Range: 6% to 20%
| Quest | Quest Name | Element Required | Buy item | Image |
| --- | --- | --- | --- | --- |
| 1 | THE HOPE QUEST | | 65 | |
| 2 | THE GREEN SPROUT QUEST | | 65 | |
| 3 | THE FROZEN DESERT QUEST | | 65 | |
| 4 | THE ABANDONED TOWER QUEST | | 65 | |
| 5 | THE FROZEN FLOWER QUEST | | 65 | |
| 6 | THE ARID LAND QUEST | | 65 | |
| 7 | THE COLD WIND QUEST | | 65 | |
Clear all 7 for 410

Stage 2
[
]
Bar Range: 5% to 15%
| Quest | Quest Name | Element Required | Buy item | Image |
| --- | --- | --- | --- | --- |
| 1 | THE FERTILITY FLOWER QUEST | | 85 | |
| 2 | THE POLLEN QUEST | | 85 | |
| 3 | THE SLOW BOIL QUEST | | 85 | |
| 4 | THE MAGIC POTION QUEST | | 85 | |
| 5 | THE FERTILITY RECIPE QUEST | | 85 | |
| 6 | THE SECRET ESSENCE QUEST | | 85 | |
| 7 | THE PETAL PULP QUEST | | 85 | |
Clear all for 383

Stage 3
[
]
Bar Range: 3% to 10%
| Quest | Quest Name | Element Required | Buy item | Image |
| --- | --- | --- | --- | --- |
| 1 | THE LORD OF TIME QUEST | | 100 | |
| 2 | THE OAK STICK QUEST | | 100 | |
| 3 | THE ASSEMBLY CEREMONY QUEST | | 100 | |
| 4 | THE TIME MANIPULATION QUEST | | 100 | |
| 5 | THE TIME SPHERE QUEST | | 100 | |
| 6 | THE ETERNITY QUEST | | 100 | |
| 7 | THE SILVER HANDLE QUEST | | 100 | |
Clear all 4 for 360

Gallery
[
]