This article is about a feature that was Removed from Dragon City.

This article is about an old feature in the game.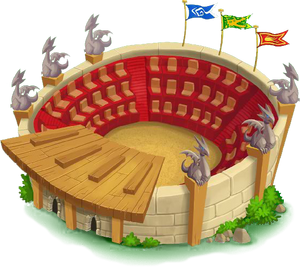 The Stadium is a
Special Building
where you can combat with your team of dragons. It costs 25,000

, yields 25,000

, (different)

, (different)

and requires 3 friends to open. Challenges open every 12 hours after the end of each tournament, with the first being available as soon as the Stadium is complete.
You are asked to select three dragons at or above lv 4 from your stable before each tournament. In each tournament, you will meet either two or three challengers. In tournaments named after an element (e.g., Nature Cup 1) you will battle Dragons that are part Nature, while for tournaments named after gems (e.g.,Emerald Cup 1 and Sapphire Cup 1 and ), the challengers may not necessarily be related to one another. 
In November 2015, this Stadium became defunct. It was transformed into a Coliseum and has new tournaments. 
Notes:
The first Dragon you fight will be the first Dragon on the list. The remaining Dragons (for three-dragon battle teams) will appear according to whichever Dragon you are using - an AI system.
Where two sets of dragons are listed you will encounter both sets in the order listed.
Tournaments
Level 1
Level 2
Level 3
Level 4
Level 5
Level 6
Level 7
Level 8
Diamond Cup Level 9 - 16
Light and War
Final Cup
Gallery
Community content is available under
CC-BY-SA
unless otherwise noted.