Description: Every dragon loves the Mr. Beast Dragon, and it's easy to see why. This fun dragon loves a good challenge, is always doing stunts, campaigns for his friends, and never holds back from giving to others. What's there not to love?
Elements: Ice, Electric, War, and Sea
Source: Can be obtained only at specific times. It at 2 (or more) times could be obtained from the Breeding Island.
Mr. Beast dragon is legendary and you could've bred it in the breeding event island, using Aztec Dragon and Gold Dragon.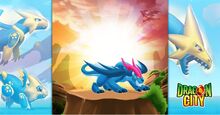 Level 1421 to 40.
Community content is available under
CC-BY-SA
unless otherwise noted.