Dragon City is a Facebook game, developed by Jan Kirby and Social Point Team where you can breed, raise, and sell exotic dragons.
What makes this game easier to play is its lack of 'energy' points that need to be refilled with time, like on most Facebook games. Another nice feature is the gems. While you can buy them, the game makes it very easy to get more for free through a variety of methods such as leveling, completing certain quests, Combat including PVP in Combat World and in Tournaments. 
The object of the game is to breed and raise many dragons to earn gold, with which you can buy more food to feed more dragons to get more gold! Pretty basic, but it gets pretty complicated!
Dragons
Exclusive Dragons
The following is a non-comprehensive list of Exclusive Dragons, formerly called Unique Dragons. While Exclusive Dragons are normally not Breedable, some Exclusives have been released for Breeding, along with several former NPC Dragons, during an update that featured new Dragons in the Dragon Book.
Breedable Exclusives are only Breedable if certain conditions are met. Generally it is taken that Breeding with Legends increase the probability of Breeding Exclusives. See Tutorial/Breeding Exclusives.
Dragon City on Mobile Devices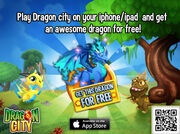 Dragon City is also available on iPhones and iPads. You can get the game at the App Store.
Dragon City App for Android devices is available as well. During the Japanese Island (27 Feb 2014) Event, the Mobile Apps and the FB app were synchronized for the first time.
As many events and offers are not synchronized between the FB, iOS, and Android apps, many players take advantage of this fact to collect multiple sets of rewards. There are at times some friendly competition between players in the completion of the Events without the use of speeding up by spending gems.
Community content is available under
CC-BY-SA
unless otherwise noted.