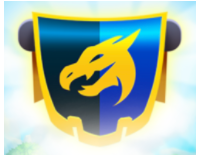 Alliances are a feature that is unlocked in level 16 where players can come together and help each other. Anyone can create or join an alliance. You can help your alliance by collecting points to collect the alliance chest. You can also trade orbs with other members of your alliance in the Tree of Life using trade essences. Alliances can be found in the Alliance Grove and there can be a maximum of 20 players in each alliance.
Alliance Flags
Alliance Chest
Alliance Chest is a chest that can be gained by the clan if they collected a number of points, points can be gained by breeding, hatching, levelling up, collecting food, winning Arena battles or winning League battles. The Alliance Chest has multiple levels and each level has better rewards than the one before it, the chest levels up by collecting more points. The Alliance Chest gives rewards like orbs and trade essences.
Current Alliance Chests
Chest Level
Needed Points
Rewards
Level 1
26.6 K
4
Level 2
27,000
53.1 K
4
4
Level 3
35,000
53.1 K
4
4
4
Level 4
51,000
729 K
4
4
4
4
Level 5
86,500
2.65 M
4
4
4
4
4
Level 6
400,000
7.69 M
4
4
4
4
4
4
Trading
Trading is a feature available using both the Tree of Life and the Alliances. By trading needed orbs can be requested for a dragon and the one who requested the orbs has to donate the same amount of orbs of an other dragon with the same rarity to the one giving him the requested orbs. Every trade requires using 2 trade essences with the rarity of the requested orbs.
Trivia
Alliances are linked to each other by the Tree of Life.
Community content is available under
CC-BY-SA
unless otherwise noted.